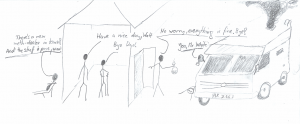 Walter White is working as chemistry-teacher and at has a second job at a petrol station. His life is boring and never runs according to his plans. However he tries his best to support his family and being a nice citizen. One day he collapes during his work and then receives a fatal diagnosis: lung cancer! Confronted with his situation, Walt decides to use the rest of his time intensively! For his own excitement  and to earn a little extra he starts to cook crystal meth.
AMC's  drama Breaking Bad (IMDb, Wikipedia) tells a intense story of a men who makes some really stupid decisions. The tone is serious, but some dark humor moments light up the show. The strength of the series are the believable could-be-your-neighbor characters and the actors who make a fabulous job. You really can understand Walts decisions and can sympathize for him, but also you clearly see how he's drifting to a bad ass criminal.
Everyone who likes dramas/dark humor should check it out. So far I've seen the first, excellent but short season. The second season has just started recently.
Star-O-Meter:





(4.5/5)
Trailer 1:

Trailer 2: