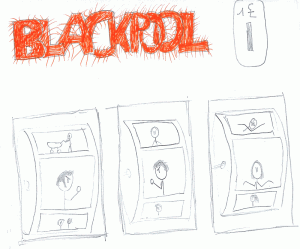 – Oh and ehmm, Mr. Holden, just one question and I'll be gone.
– What you want to know?
– What's an A. W. P?
– Amusement With Prizes, like that machine you're just been playing.
Ripley Holden dreams of a big amusement arcade, a hotel and earning big time money. However he has a hard time to keep even his small arcade business running. After a dead body is found in his arcade things start getting worse. The investigation progresses only slowly and isn't beneficial for the business. Furthermore Holden's family drifts further and further apart from each other.
BBC's Blackpool (IMDb, Wikipedia) is a six part dramedy with sing-along parts. It's a pretty straight forward drama with affairs, conflicts, twists and intrigues around non-stop-shouting Holden and his arcade. The song-parts are a little strange. It's a musical where the actors sing the song. Instead actors sing along to the original music. Surprisingly this is refreshing and fun to watch and listen =).
A nice little short series. Thank you for the tip Julia@49sun. There's actually a follow up TV-movie, Viva Blackpool (IMDb, Wikipedia), which I haven't watched so far.
Star-O-Meter:





(4.0/5)
Blackpool-Scene: Viva Las Vegas

Blackpool-Scene:  These Boots Are Made for Walking